Common Mistakes People Make When Choosing A Label Supplier For HVAC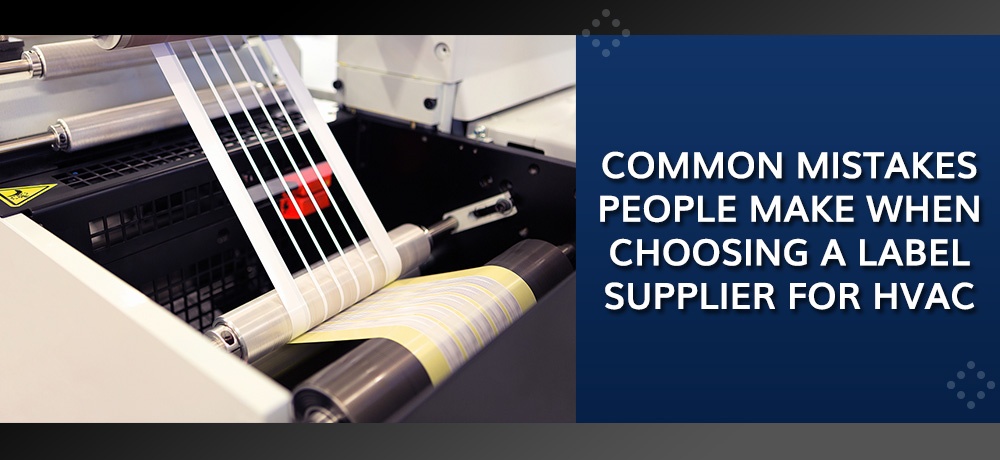 HVAC (Heating, Ventilation, and Air Conditioning) labels are meant to provide valuable information on the numerous HVAC system components. As HVAC equipment withstands various temperatures, you will need to make a smart decision to procure labels for such environmental comfort systems.
However, in the bid to find a unique labeling system to help your company stand out among other HVAC businesses, you may avoid a few bits of information that are crucial about a label's purpose. To help you find the right labeling company and prevent expensive errors, Banner Sales Co. has put together a list of the most common mistakes people make when choosing a label supplier for HVAC.
1. Looking only at the cost
There are a lot of factors that go into label pricing. Is the source material a "second" or offcut? Is it recycled? Has it been manufactured in a controlled environment? The answer to all these questions can affect the cost of labels. Sure, the price may be good, but is the product up to your standards? Having your workers deal with uncooperative labels is a black hole of loss. At Banner Sales Co., we use only the first-run material made specifically for us. The adhesive isn't a catchall, and it is specifically made for galvanized metal for HVAC.
2. Overbuying labels
This is a tactic that many companies use to get you to buy their labels. They are buying in bulk, so they want you to buy as well. The dirty secret is that labels have a shelf life. If you overbuy sheet labels, you will notice that they tend to get more "wonky" over time. If they aren't appropriately stored in your warehouse or the bulk reseller's, that diminishes the shelf life even further! At Banner Sales Co., we manufacture all of our labels in a controlled environment. This is what we do! We always have the labels ready as we make them every day. Your label's shelf-life starts on day one from when you get your order, as it hasn't been sitting around a sweaty warehouse for months.
3. Getting recycled material
Some industries prize using recycled material. With labels, using recycled material is a way to get a low price on a cheap product. The strands in the paper get shorter and flimsy. That lends itself to curl, which is a constant battle in and of itself. Using recycled paper will only exacerbate the problem. Banner Sales Co. uses virgin paper to ensure that we start with a product that our customers will love!
4. Chasing technology
Newer isn't always better! In some industries, the latest technology has already been shelved for another. The best example of this is thermal for HVAC labels. Direct thermal is the absolute wrong technology for HVAC. Black labels you can read, anyone? Thermal transfer works a little better, but the labor, printer cost, and material cost will impact your bottom line in ways that increase your black hole of loss.
To avoid these and other mistakes with HVAC labels, reach out to the experts at Banner Sales Co. As one of the largest label manufacturers in the entire USA, we have over thirty-two years of supplying the HVAC industry with professional-grade labels for several businesses. We offer our clients custom labels through innovative labeling technology for color coding for duct, color option for striped labels, and the famous HOT label for HOT jobs. We serve clients across Canada and the USA.
For a complete list of our services, please click here. If you have any questions about HVAC supplies, we'd love to hear from you. Please contact us here.
---
---