Happy Thanksgiving from Banner Sales Co.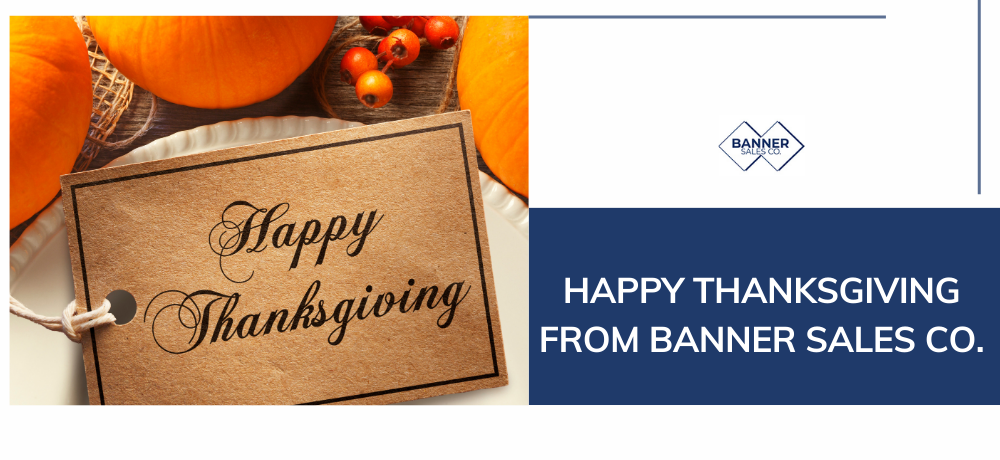 As Thanksgiving approaches, our hearts at Banner Sales Co. are filled with gratitude for the trust and support of HVAC professionals across the USA. This season is not just about turkey and cranberry sauce; it's a time to reflect on what truly matters. In this special blog, we want to express our thanks and share some valuable insights into the world of HVAC labeling, an industry we are proud to be a part of.

The Foundation of Our Gratitude
Before we dive into the nitty-gritty of HVAC labeling, it's essential to acknowledge the foundation of our gratitude.
Our Loyal Customers
First and foremost, we want to thank our loyal customers. Your trust in Banner Sales Co. as your HVAC labeling supplier means the world to us. We are honored to serve you and provide the high-quality labels you rely on.
Our Dedicated Team
Behind every label we manufacture and distribute, there's a dedicated team of professionals. From our in-house manufacturing experts to our customer support team, we are grateful for their commitment to excellence.
Our Industry Partners
We also want to express our appreciation to our industry partners and collaborators. Together, we contribute to the growth and success of the HVAC industry.
Unveiling the World of HVAC Labeling
Now, let's explore the world of HVAC labeling and why it's so crucial for professionals across our great country – the United States of America.
The Heart of HVAC Labeling
Labels may seem like a minor detail, but they are the heartbeat of HVAC systems. They provide vital information about equipment, safety guidelines, and maintenance instructions.
The Banner Sales Co. Difference
At Banner Sales Co., we take pride in being your #1 label supplier for plasma labels in the HVAC industry. Our labels are designed with the end user in mind, ensuring clarity, durability, and compliance with industry standards.
The Diverse Range of Labels
HVAC labeling is not one-size-fits-all. There are various types of labels tailored to specific needs.
Plasma Labels
We are the innovators of labeling ducts. Being the longest-serving company that provides labels to the HVAC industry has led to several innovations over the years – permanent and removable labels, solid and striped labels, and, of course, our "HOT" labels for rush jobs. Our customers needed once cutting ducts on CNC machines became commonplace. With increased productivity came increased confusion! That is why labeling ducts became so important. Banner is here to lead HVAC duct manufacturing into the future.
Laser Labels
Banner Sales' Laser Labels are made in-house by a team of professionals. We understand that they play a significant role in HVAC systems, and your cutting-edge HVAC cutting software is designed around these labels, making your job easier and more efficient. Our leading place in the industry has many companies come to us to review their labeling ideas. We review and help them when designing new software. We take into account end-user cost and efficiency when consulting on these jobs.
Thermal Labels and Pin-fed Label
Banner still manufactures the pin-fed and thermal labels for duct! Many companies have moved onto laser sheets, but we see the value in doing things the "old way." New can be fun and interesting, but the tried and true methods usually keep your line running smoothly and efficiently. With Banner, we will keep your labeling needs top of mind to help you get the job done!
As we approach Thanksgiving, we want to remind HVAC professionals from across the country that we are here for you. At Banner Sales Co., we understand the challenges you face, and we are committed to providing the labeling solutions you need. This Thanksgiving season, we express our deepest gratitude to you, the HVAC professionals who keep our communities comfortable year-round. Thank you for choosing us as your trusted partner in HVAC labeling.
Get in touch with us today!
To learn more about the products we offer, please click here. To get in touch with us, please click here or give us a call at 1-800-821-8487.

---
---