Top Five Things To Look For When Hiring An HVAC Label Manufacturing Company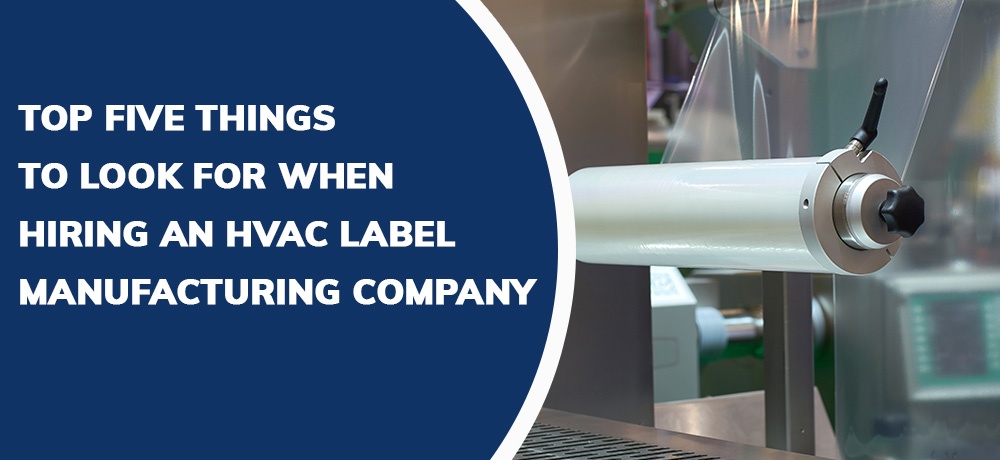 As an HVAC service provider, it is important to mark your duct properly. Leveraging the right label for your business will keep the workflow smooth and save you money.
If you're looking for premium quality labels that stick to oily surfaces like galvanized duct, you need to source your products from an HVAC label manufacturing company. As industry experts, they have labels for various purposes and can provide you with customized solutions to meet your business requirements.
Unfortunately, when it comes to choosing the right HVAC label manufacturing company, there are a ton of companies that promise exceptional results but do not deliver. To speed up your search process and help you find a trusted company, here's a list of the top five things to look for when hiring an HVAC label manufacturing company.
1. Product knowledge
You don't have to be an expert at everything. Sometimes, it is best to seek professional assistance for a specific job. Their expertise will guide you to make the right decision.
As a leading HVAC label manufacturer, we employ the best in the industry. We search for people in other industries and tap into their knowledge to improve our processes and products. We have PhDs on call who have degrees in "paper science." If there is a question, our staff with over 100 years of combined knowledge can either answer it or find an answer quickly.
2. Trust
In conjunction with #1, you have to trust that the person is leading you down the right path. They may sound like they know what they are talking about, but are you sure? That is why you have to work with professionals you can trust. If they sell you something that is 100', but it turns out to be 80', will you still trust them with another product?
3. Reputation
Reputation goes hand-in-hand with trust, but it is a little different. Sometimes your gut can mislead you. Smarmy sales guys are successful because they can con anyone. But once the dust settles, you realize that your great deal has turned into an embarrassing lesson. Always remember that a little research goes a long way!
Our proven track record since 1988 has led us to be one of the most respected HVAC supply companies in the industry.
4. Reliability
Just like how you expect an employee to be at work on time, your products should be equally reliable. What good is a great deal if you can't incorporate it into your business? That is why it is important to work with a company that delivers quality products within the given deadline.
We ship the same day, with very few exceptions. Besides, as a manufacturer, we make sure to stay on top of the supply chain.
5. Goal-oriented
The company you hire should share the same goals as you. We want your company to be as competitive and profitable as possible. Therefore, we don't want you to waste money unnecessarily on things you don't need. You want to grow your business, and so do we. We help you move in the right direction today, and that turns into a fruitful relationship tomorrow.
If you're looking for a reputed HVAC label manufacturer, reach out to Banner Sales Co. With over three decades of experience, we can provide you with professional-grade labels that fit your business needs and budget.
As a leader in the labeling supplier industry, we are confident that we have the right product for every job out there. We provide laser labels, pinfed labels, HOT labels for important jobs, solid and striped labels to differentiate projects, and specialized labels for unique applications. We proudly serve clients across Canada and the United States.
To learn more about the labels we have to offer, please click here. If you have any questions about how we can help you, get in touch with us by clicking here.
---
---