Modec MDF-500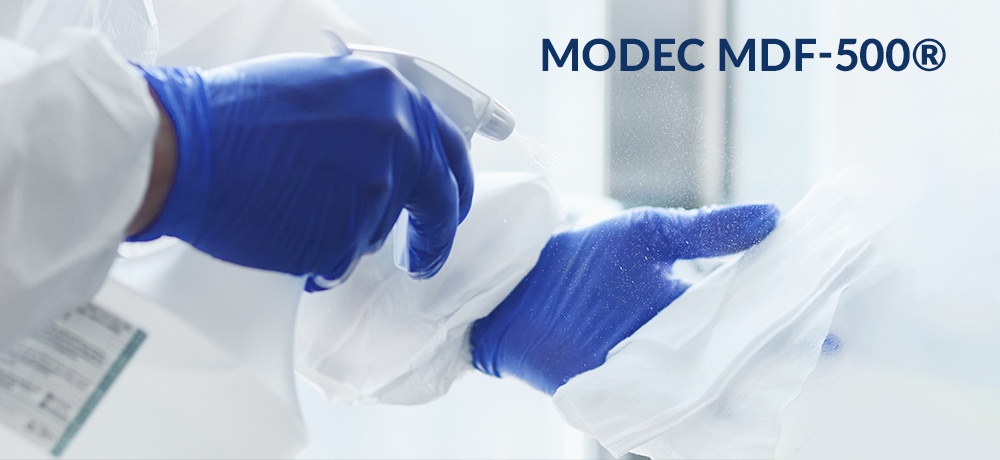 MDF-500® is a decontamination formula that is ideal for cleaning offices, work spaces, and non-insulated ducts for a complete decontamination solution.
Environmentally safe, with high efficacy, MDF-500® is a microorganism decontamination formula. Microorganisms include bacteria, viruses, fungi, algea, protozoa, spores and rotifers.
Product Highlights/Benefits
SHOWN to be an effective deodorizer against Microbial Volatile Organic Compounds; odors caused by mold metabolites and against Mycotoxins; chemical by-products that are known to be allergenic.
PROVEN effective as a microorganism inhibitor in EPA Hard Surface Mildew-Fungistatic Tests for a minimum of 21 days.
INHIBITS the growth of microorganisms in exterior applications on porous surfaces.
SAFE to use in virtually any indoor application.
MDF-500 can be used to treat HVAC ducts as well as job sites efficiently and cleanly!
MDF-500® – The US Government developed the underlying technology, (DF-200), at Sandia National Laboratories and patented the Formulation pursuant to US Patent 6,566,574 B 1. Banner Sales' decontamination formula MDF-500® is the EPA registered commercial version of DF-200. MDF-500® is registered with the USEPA under FIFRA No. 80346-1/2. In addition, MDF-500® is registered throughout the US with applicable state authorities, including the State of California and Canada.
Effective Against but NOT Limited to the Following:
Aflatoxin
Anhydrous Ammonia
Anthrax-AMES RIIDAnthrax-ANR 1
Aspergillus niger
Bacillus globigii
Bacillus subtillus
Bacteriophages
Bovine coronavirus
Bovine enterovirus
Butyl Isocyanate
Capsaicin (Pepper Spray)
Enterobacter aerogenes
Enterococcus faecalis
Erwina herbicola
Escherichia coli (ESBL)
Escherichia coli O157:H7
Enterobacter aerogenes
G Series Nerve Agents
Influenza A & B
Klebsiella pneumoniae
Listeria monocytogenes
Malathion
Methamphetamine
MRSA
Mustard(HD)
Mycotoxins
Nerve Agent
Norovirus
Paclitaxel(Taxol)
Pathogenic Avian Flu(HPAI)
Penicillium variabile
Proteus mirabilis
Pseudomonas aeruginosa
Salmonella choleraesuis
Staphylococcus aureus
Staphylococcus epidermidis
Trichophyton mentagrophytes(Athletes Foot)
Vancomycin Resistant
Enterococcus faecalis (VRE)
---
---